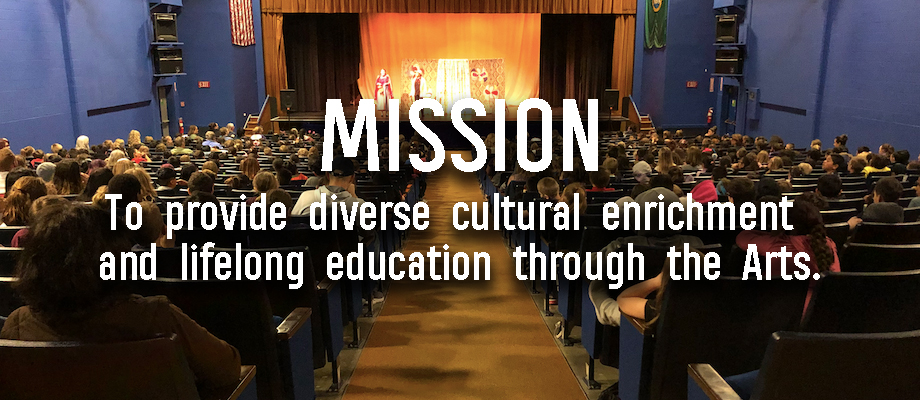 "All the arts for all the people." • 501(c)(3) – Established 1976
Columbia Basin Allied Arts is based in Washington's Columbia Basin, providing a wide variety of nationally and internationally acclaimed arts performances and events to the region's diverse community.
We were founded by a Big Bend Community College grant award, written to promote shows at the college's Wallenstien Theater. The first director was Brenda Teals, and a slew of notable community leaders has led the organization, both as Executive Director and Board of Directors.
Columbia Basin Allied Arts presents Premiere performances and Green Turtle performances. Our Green Turtle shows are geared towards families and young people, while our Premiere performances are for a broader audience. Our performances are targeted to and performed by culturally diverse groups. Despite rising artist fees and production costs, our tickets remain affordable in order to provide theater access to as many people as possible. Season tickets are available for our Premiere shows. Individual show tickets are available for all shows.
A visual arts component currently consists of a yearly mural project in collaboration with the Moses Lake Museum and Grant County Fairgrounds, and an ArtBox project geared at putting easy-to-use lesson plans for educators based on Washington State k-12 arts learning standards.
In 2018, we began extending our outreach beyond the theater and Grant County into public schools in Lincoln and Adams Counties, continuing the work of our former Executive Director, Pat Dougherty. Learn more about our dedication to Pat's vision and the Children's Art Fund.
Our main fundraiser, takes place each year on or around the day we received our 501(c)3 designation – our birthday, April 24th.
Our Credentials
Columbia Basin Allied Arts is one of the select few arts organizations to have received the coveted Washington Governor's Arts Award for Artistic Excellence. Our professional standing in the national arts community has been validated by financial recognition from National Endowment for the Arts, Western States Arts Federation, Washington State Arts Commission, Western Alliance of Arts Administrators, Washington Commission for the Humanities, and Arts Network of Washington State.
Our Team of Directors of the Board consist of people from a broad range of backgrounds and professions, sharing a common love of the Arts, leads Columbia Basin Allied Arts.
Your Tax Benefit
As a 501(c)(3), general and business sponsorships, donations and corporate grants to Columbia Basin Allied Arts are tax deductible. By designating a tax-deductible donation to Columbia Basin Allied Arts, you are helping your community while helping to attract new residents to the Columbia Basin and new patrons to the Arts.
Philanthropic Legacy
CBAA now accepts donations of securities, required minimum distributions from IRAs and benefits from estate planning. There are many options that allow you to shift investments and incomes without paying any portion to the government. Contact your financial professional to learn the advantages of these types of donations. Don't know who to call? Contact Columbia Basin Foundation or Edward Jones Investments.